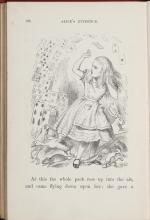 ISBN 0772760314, 108 pages, $30.00 | Ref. #7009
Selection from Catalogue
Due to popular demand this catalogue is sold out
All in the golden afternoon celebrates the Library's acquisition several years ago of the Joseph Brabant Collection of Lewis Carroll and Charles L. Dodgson. The exhibition and catalogue, a collaboration between Richard Landon, and Alice Moore, one of his students, concentrates on the special strength of the Brabant Collection, its magnificent run of editions of the Alice books from 1865 until almost the end of the twentieth century. Also shown are some of the rare Dodgson material. The exhibition is arranged under seven headings: The Collector and His Collection; Mr. Dodgson and Lewis Carroll; C.L. Dodgson as Correspondent; C.L. Dodgson as Photographer; The Artists and Alice; The Hunting of the Snark and Other Poems; C.L. Dodgson as Artist; and The Works of C.L. Dodgson.