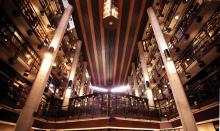 While the Fisher Library is open to in-person visits for researchers, please note that the reading room is currently restricted to four researchers at any one time. The Reading Room will be accessible Tuesdays, Wednesdays, and Thursdays only, and approved researchers will be able to apply for appointments on those days in two separate blocks, between 9am-12pm and 1pm-3pm. Please use the stack retrieval request form to book your time and order your materials.
We also encourage you to continue to use our scanning service for researchers.
Since the library remains closed to the general public, non-University of Toronto affiliated external researchers will be met at the library doors on the east side (facing St. George Street) staircase leading up to the Fisher promptly at the time of the appointment given them by library staff.
Retrieval requests must be submitted before noon on the day before the approved visit. If you have any other questions, please contact the Fisher's Director or send an e-mail to the Fisher's general e-mail address.
We strongly encourage researchers to wear a mask in consideration of other researchers and staff sharing the space. However, masks are not strictly required and we cannot guarantee a fully masked environment during public hours.