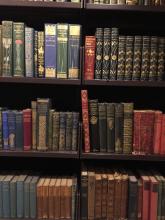 In order to support the completion of some internal projects, the Fisher Library will be offering limited public service hours for the month of August.
31 July to August 18, 2023: Reading room will be available by appointment only from 9:00-12:00 and 1:00-3:00. Visitors are welcome to come in and view our exhibition space during this time.
21 August to 1 September, 2023: Reading room and reference desk will be closed to the public.