The Thomas Fisher Rare Book Library is pleased to announce the acquisition of a 15th-century illuminated manuscript of Christine de Pizan's Livre de paix.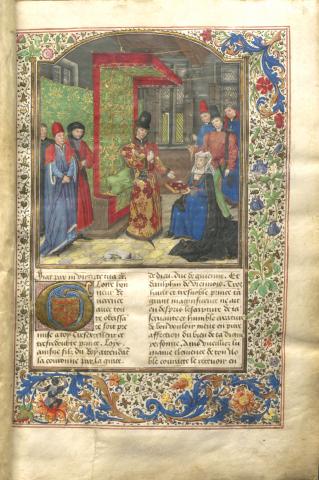 Christine de Pizan (c. 1364-c. 1430) is recognized as one of the most significant writers and thinkers of the late Middle Ages and an important voice in the history of women's literature. Although born in Italy, Christine spent most of her life in France. Following the early death of her husband, she turned to writing to support herself and her children, becoming France's first professional woman of letters. Christine composed works in a variety of genres in both poetry and prose, but is best known for her allegorical works in defence of women, including in particular the Livre de la cité des dames (Book of the City of Ladies) and the Livres des trois vertus (Book of the Three Virtues). Towards the end of her career, Christine turned her attention to the fractious political situation in France, producing a series of works of political philosophy. The Livre de paix, the last in this series, was also her last major work.
The manuscript acquired by the Fisher Library, which was made in Flanders in around 1470, is written on vellum and features a large number of illuminated initials, as well as a magnificent half-page miniature by the Flemish artist Jean Hennecart. The miniature depicts Christine presenting her book to Louis de Guyenne, the Dauphin (or heir apparent) of France. The manuscript was commissioned by Jean V de Créquy, a counselor to Philip the Good, Duke of Burgundy. The Créquy coat of arms appears in an elaborate initial just below the miniature. Manuscripts of the Livre de paix are extremely rare, with just three copies known to survive, the other two being housed in the Bibliothèque nationale de France and the Bibliothèque royale de Belgique.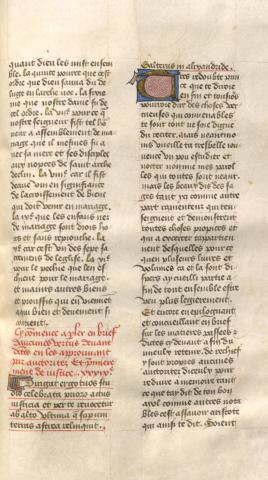 The acquisition of this manuscript adds to the Fisher Library's collections a rich resource for both scholarly exploration and student learning. Interest in Christine de Pizan and her works has flourished since the 1970s, and in recent years her political thought in particular has received increasing attention. The manuscript also provides important evidence for medieval book culture, from the physical production of books to relations between authors and patrons, while the illuminated miniature is an important example of late medieval art in its own right.
The acquisition from a bookseller in the U.S. was made possible thanks to the support of the B.H. Breslauer Foundation, The Donner Foundation, and the Friends of the Fisher Library.
You can read more about this important acquisition in this piece from UofT News, or hear our Medieval Manuscripts and Early Books Librarian Timothy Perry discussing it with the Spouter-Inn Podcast