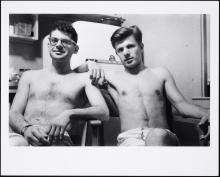 The Fisher's latest exhibition is now open. Fleeting Moments, Floating Worlds, and the Beat Generation: The Photography of Allen Ginsberg, received its official launch earlier this week.
The exhibition celebrates the rich and varied life of the Beat poet Allen Ginsberg through the lens of his camera. While Ginsberg the poet needs little introduction - his seminal works include "Howl" and "Kaddish" helped to define and legitimize the literary movement that came to be known as Beat - less well known, however, is Allen Ginsberg, photographer. Yet since the late 1940s, when Ginsberg was discovering his literary voice and befriending many of the writers who helped to lay the literary foundation of the Beat movement, including William S. Burroughs and Jack Kerouac, Ginsberg's camera was candidly capturing the general spirit and ethos of the Beats. We only know many of those early images of Burroughs and Kerouac, along with Neal Cassady (the figure popularized as Dean Moriarty in Kerouac's On the Road), because of the photographs taken by Ginsberg.
Later, with the encouragement of noted photographer Robert Frank, Ginsberg began to take the art form more seriously. As his fame continued to rise – not just for his poetry, but for his advocacy and crusading social justice – his camera continued to document his rich circle of friends and associates.
This exhibition features over 100 photographs – some well-known, others more obscure – from the Fisher's Ginsberg Photography Collection, the largest collection of Ginsberg prints in the world. It traces Ginsberg's friendships with the Beats, along with a more in-depth look at "Howl." Complementing the photographs are a number of rare print materials from members of the Beats.
The exhibition runs until April 27.
A downloadable audio tour of the exhibition is available at Soundcloud via this link. It can also be accessed via iTunes.