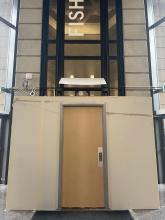 Beginning the week of November 15, the Fisher Library will again be open to researchers.
Although the project to replace the main doors to the library is still ongoing, most of the hoarding has been removed and a temporary door is now in place that will enable us to schedule researchers into the Fisher's main reading room.
Visits to the library will be appointment only, between Tuesday and Thursday, and only four researchers will be allowed in the reading room at any one time. All materials must be pre-ordered by noon on the day preceding the visit. Researchers can schedule in two different time slots: from 9am to 12pm and from 1pm to 3pm. While we will try to accommodate requests for extended time in the reading room, we may have to limit researchers to one time slot per day, depending on demand.
To schedule a visit and to pre-order materials, please use the library's Stack Retrieval Form.
Please note: Researchers affiliated with the University of Toronto must enter through the main doors at Robarts Library and complete a COVID-19 self-assessment via UCheck. 
Researchers not affiliated with the University of Toronto must complete a COVID-19 Screening Form prior to visiting the Fisher Library.
Please direct any questions to the Fisher's general e-mail address or the library's Ask a Librarian online form.