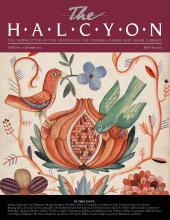 Local Ukrainian artefacts, including photographs and posters. Reconstructing a lost library with titles by noted German sexologist Magnus Hirschfeld. A run of issues from the Toronto tabloid Tab. The drafts of Margaret Atwood's sequel to The Handmaid's Tale. Copies of the short-run Yiddish publication Milgroym.
These are just some of the recent donations to the Fisher Library that are chronicled in the latest issue of The Halcyon, the newsletter of the Friends of the Thomas Fisher Rare Book Library, now available both in print and online. The December issue is traditionally devoted to gift-in-kind donations, and this past year was a particularly bountiful one of the Fisher: over 120 donors added to the library's collection of rare books and special collections.
This issue is also dedicated to the memory of Alan Horne, who died in June. Alan was a senior librarian at the University of Toronto Libraries, and co-established The Halcyon with the Fisher's long-time director Richard Landon.
Download the December issue of the Halcyon.